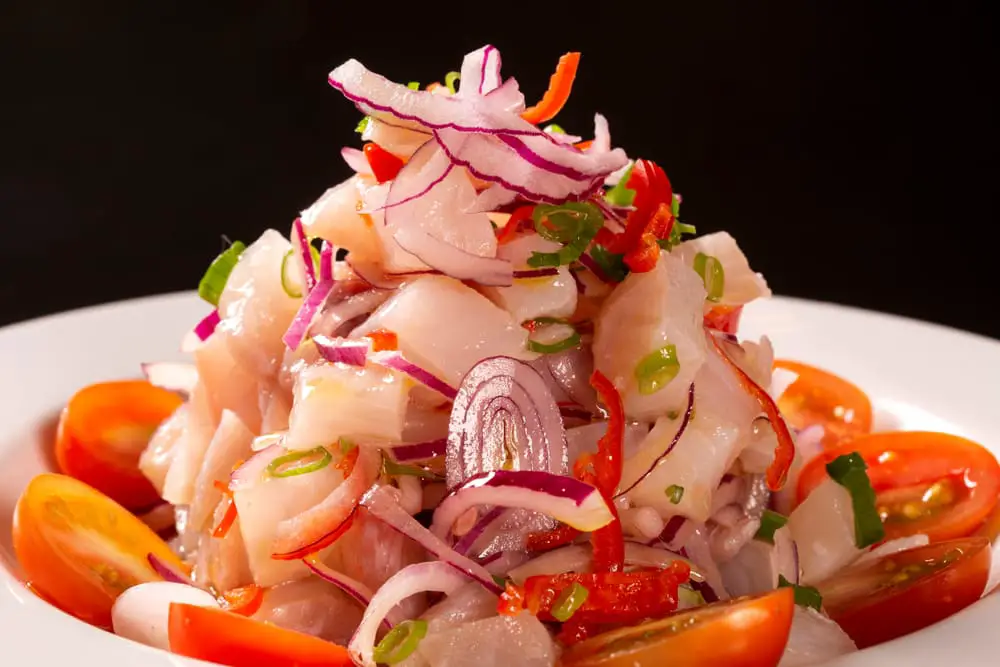 If you are like most people who love crappie, the only thing better than catching these fish is eating them. Most crappie lovers are always looking for a new way to enjoy these tasty pan fish and what better way to get the true taste of crappie to shine through than to make and enjoy a crappie ceviche.
What is Ceviche?
For those who have never tried ceviche understanding what ceviche is will help you to feel confident when making a crappie ceviche. Ceviche is a South American dish made of marinated raw fish or seafood that is normally garnished and served as an appetizer.
The raw fish is marinated or cured in citrus juice, normally the juice from lemons or limes, and spiced with other ingredients. Ceviche should be served straight from the refrigerator while it is still good and cold.
Now that you know what ceviche is, here is a simple recipe for crappie ceviche recipe.
Crappie Ceviche Recipe
Crappie Ceviche (Serves about 4)
The really nice thing about a crappie ceviche is that if you are serving this appetizer with dinner you can make it well ahead of time and then just put the finishing touches on it at the very last minute.
Ingredients
1 pound of crappie fillets washed in cool water and cut into thin strips about ½ to 1 inch long.
10 to 12 limes (or lemons if you prefer)
2 cloves of freshly crushed garlic
Sea salt or kosher salt to taste
½ of a small onion finely diced
1 Roma tomato diced
Optional Ingredients
2-4 jalapeño peppers cut into fine pieces with the seeds removed or 1 tsp of red pepper flakes (for those who want the dish to be spicy.) or
A few black olive slices
Directions
Place thin strips of crappie in a bowl
Squeeze the juice from your limes or lemons over the fish until it is covered with juice. The juice "cooks" the fish and firms up the flesh.
Add the crush garlic and salt and stir the mixture
Add the Jalapeno peppers or red pepper flakes if using
Place the bowl in the refrigerator uncovered for 10 to 12 hours
Remove from the refrigerator and drain all excess juice off the fish
Add your onions and tomatoes (as well as the black olives if using)
Serve immediately either alone or with nacho or tortilla chips.
Some recipes call for the addition of cilantro which you may or may not want to add.
Is Crappie Ceviche Safe to Eat
Fresh water fish do tend to carry more parasites than salt water fish for some reason. However, if you immediately kill the crappie as soon as it is caught and freeze the fish before turning it into a ceviche it should be pretty safe to eat.
While many people do enjoy crappie ceviche, we don't recommend eating any raw fish no matter where it comes from or how it is prepared.
Related: