The crappie consistently ranks near the top for the most popular freshwater sportfish in the United States. The 2011 National Survey of Fishing, Hunting, & Wildlife-Associated Recreation shows there were 6.1 million anglers who spent a total of 102 million days on the water in search of the crappie. That's an estimated 23% of all fisherman in the U.S. who were fishing for crappie at some point that year. So why is this sport so popular? and why should you be out on the water right now fishing for crappie?
1) They taste delicious.

Freshly caught crappie fillets pan-fried and garnished with lemon are hard to beat. The meat is superbly delicate and flaky. Pan frying is not the only way to prepare crappie, though. It's a highly versatile fish due to its mild taste. You can also bake it, grill  it, cook it in foil, cook it whole, beer batter it, use it in chowder, broil it, stuff it, blacken it, smoke it, dehydrate it, and just about any other method you can think of. The options are endless. Here are 5 fabulous crappie recipes.
2) They are easily accessible.
If there's one fish you can catch almost anywhere in the U.S, anytime of year, it's the crappie. While the black and white crappie are native mostly to the eastern half of the U.S., they can now be found in every state except Alaska and Hawaii. This is due to the many transplanting and stocking programs that have occurred over the last century. Because the crappie has such a wide range and is so adaptive, it is an extremely accessible fish.
3) They can be very easy to catch.
So you're out on the water fishing for crappie and you have to decide between a jig, a minnow, a crankbait, and a spinner. While some may consider this a problem, it really shows that crappie are not picky eaters. With some knowledge of where to find them during each season and a little practice, you can catch crappie on just about anything.
Additionally, if you happen to be fishing for crappie during the spawn then it's even easier. Crappie will fiercely defend their nesting beds and will strike almost anything you put in front of their face. Don't get too crazy though; crappie populations can be overfished rather easily during the spawn, leading to decreased numbers the next years.
4) You don't need a lot of money.
Who said you need a boat to fish for crappie? If you know a good piece of shoreline or pier you can do just as well as someone with a boat. Crappie love perusing along edges of weed beds and drop-offs, which are often just a stone's throw from shore. Additionally, they will often be nesting in waters less than five feet deep during the spawn, making it unnecessary to be far from shore.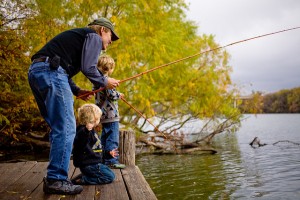 Second, you don't need any fancy reel or rod to land a bucketful of crappie. Often times vertical jigging with a long cane pole around structure will bring in more crappie than the most expensive of rigs.
It's not hard to see why fishing for crappie has become so popular. Required fishing gear is minimal, they are easy to find, easy to catch, and are delicious to eat. And with aliases like papermouth, sac-a-lait, lamplight, strawberry bass, and goggle-eye, it's easy to see how much love this fish gets!