DISCLOSURE: This post may contain affiliate links, meaning when you click the links and make a purchase, I receive a commission. As an Amazon Associate I earn from qualifying purchases.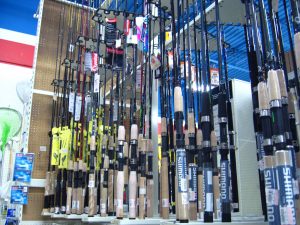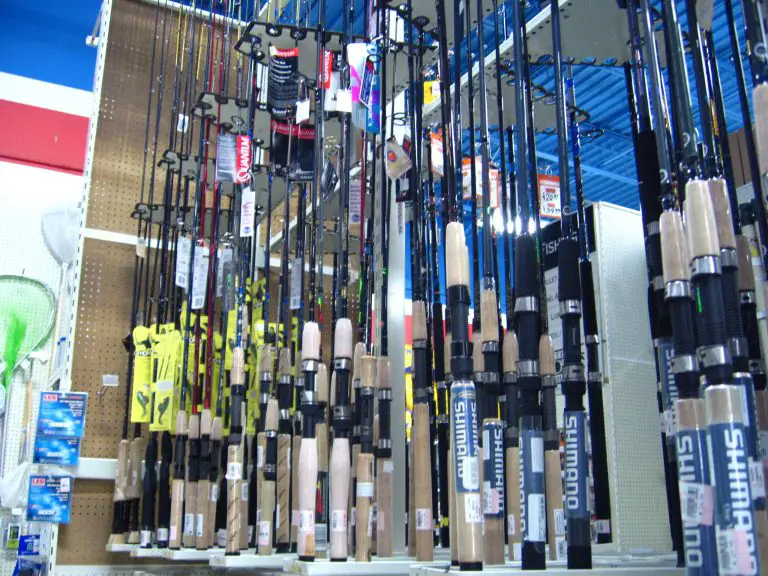 It goes without saying that you have to use the right tool for the job if you want to maximize your crappie catch. The best crappie rod and reel type for all-around crappie fishing will almost always be an ultralight or light spinning combo. Its versatility and finesse with light lines make it the weapon of choice for many crappie anglers. In this article, we'll look at what makes a rod and reel great for crappie fishing as well as share a couple of great combos on Amazon right now.
Rod Characteristics
So what separates one fishing rod from another? Rod length, action, power, and material are the big four:
Rod length – Self-explanatory. A longer rod usually means you will be able to cast further, although at the expense of weight and portability.
Action – Action is the speed that the rod tip returns back to straight after it is flexed. A fast action rod is more sensitive but is harder to control.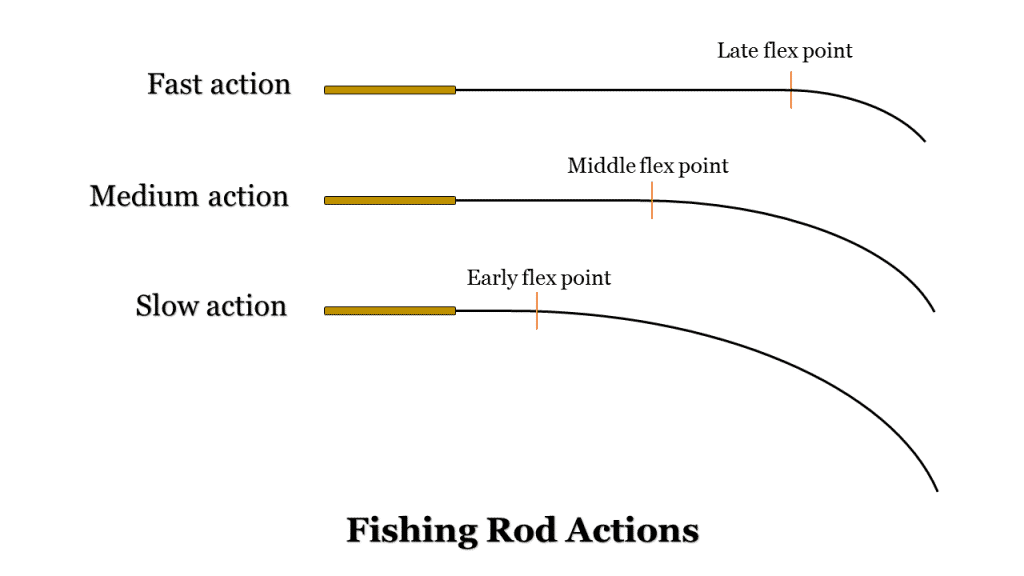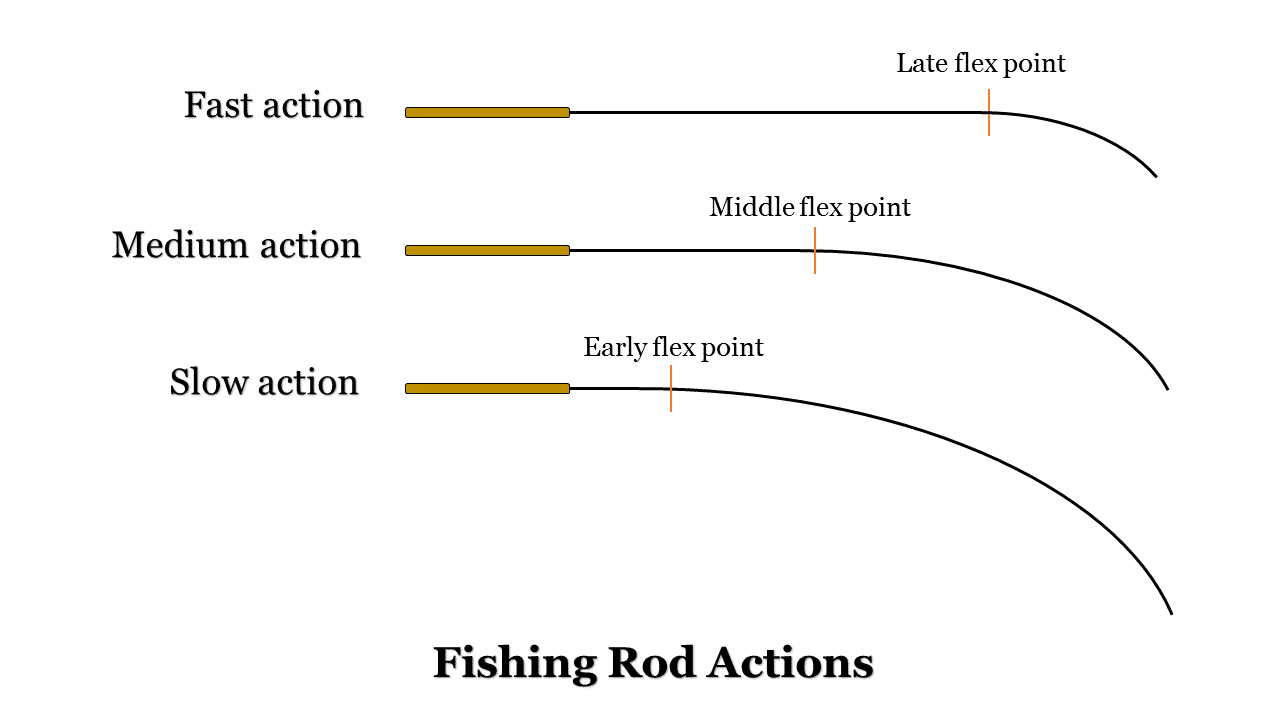 Power – Power is basically how stiff the rod is. Rod powers range from ultralight to heavy. 
Material – If you're at a fishing store, chances are most of the rods will either be made of fiberglass, graphite (also called carbon fiber), or a hybrid of both. Fiberglass is cheaper and more durable but usually heavier and less sensitive than graphite.
When it comes to searching for the best crappie rod, it really comes down to two different types you can choose from. The cane pole, which can be supremely effective if used properly, and the spinning rod.
Cane Poles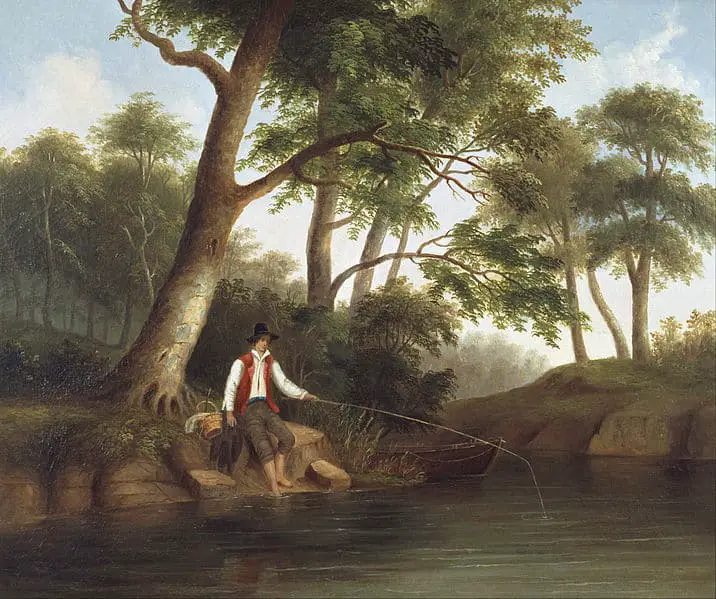 Cane poles are simple. No reel, just a rod and a line holder to wrap the fishing line around. The advantage cane poles allow is precise and delicate vertical jigging, especially in coverage. You may not have the range a rod and reel would give you but wherever you attempt to place your jig/minnow/lure it is sure to go exactly there. You won't have to mess with reeling your lure through the weeds and praying it won't get snagged because you can simply lift it straight up and out of the water. You also don't have to worry about a big "plop" a long cast would cause. All of these factors help keep the area you are fishing relatively undisturbed, which means more fish will be around for longer to present your lure to.
Cane poles initially were made out of bamboo. Several manufacturers still make blanks (aka rods) out of bamboo, although most are now telescoping and made of fiberglass or graphite. Cane poles can range anywhere from 7'-23' with powers that range from ultralight to medium. A pole between 10' and 16' is usually a solid choice as it allows you a decent amount of range while also being easy to control.
Patience and competitiveness are the main factors for making a fishing trip successful. However, good fishing is imperative as well. I have listed the best fishing rod for making your next trip more memorable.
 1) Shakespeare Wonderpole Spinning Rod
This Shakespeare Wonderpole is perfect for crappie. It telescopes from just under 4' to 16' when fully open, making it easy to carry. Additionally, the fiberglass construction gives the pole great strength.
2) Berkley C-Series Crappie Pro Spinning Rod
One of the best fishing rods is the Berkley Crappie rod. It is created for the spider rigging and jigging techniques. It is manufactured from 24 ton Carbon fiber that makes it more durable and sensitive. The rod is perfect for fishing because it is equipped with an EVA power grip. It is ergonomically developed for less fatigue and easy control. The stainless steel guides with titanium oxide insert guides that make the spinning rod lightweight. The rod has a bell-shaped rear handle for rod holder placement.
3) Shakespeare Crappie Spinning Rod
Another great fishing rod that is good for experienced and beginner anglers is the Shakespeare crappie spinning rod. The rod features IM-6 graphite blanks makes the rod lightweight and easy to cast. The rod has EVA griping that makes sure you have a comfortable grip. Moreover, it has a high-visibility tip that allows you to see clearly when fishing in the early morning. The rod is the best choice for taking for your next fishing trip because it is strong and flexible.
4) South Bend Crappie Stalker Jigging Rod
The fishing rod by South Bend is good for fishing as it enables you to fish in stealth mode. This spinning rod is specially developed for catching the crappie. The Graphite rod blanks make the rod durable and light in weight. The aluminum oxide guides make it corrosion resistant. Thanks to its high visibility tip, it is easy to see the fishing rod. It features a stainless steel cushioned hood and a hook keeper. The rod offers a comfortable grip because of its Eva padding.
5) Lew's Fishing Mr. Crappie Slab Daddy 2 Piece Rod
Lew's Mr. Crappie is the right choice to take for reeling in the big fish. This fishing rod is developed from fiberglass 2-piece blanks with stainless steel guides. It has graphite reel seats along with aluminum oxide inserts. This makes the fishing rod robust and durable that offers a smooth performance. The rod features Eva padding for a better and comfortable grip. It has a unique rod length label indicator. This is a good choice for beginners and expert anglers as it is light in weight.
6) South Bend 14 Feet Crappie Stalker Pole
The Crappie Stalker pole has a 14 bream pole section 4/line winder. It is a quality product that is manufactured using high-quality materials. The bream poles are attractive and efficient. The pole features a handy line winder, reinforced joint sections, and a comfortable vinyl-wrapped grip. Along with this, it has a cap with a keeper attachment. The bream pole comes in various length options and is collapsible. Every pole is of red color with silver flames. This is one of the must-have products for your next fishing trip.
7) Entsport 2-Piece 7-Feet Casting Rod
Another great fishing rod for anglers is this fishing rod by Entsport. This 7' carbon casting fishing rod has 2 top pieces with different power. The rod features an enhanced reel seat with aluminum hoods making its corrosion resistance. The casting rod is light in weight yet strong and robust because of carbon fiber. This increases the strength of the rod while maintaining sensitivity. The EVA grip makes it comfortable to hold and control. As a result, you can spend more time on the water with less fatigue.
Be sure to check out Cane Pole Fishing for Crappie for cane pole techniques and a list of great cane poles.
Spinning Rods
When you want to try other techniques besides close-quarters vertical jigging, a spinning combo is a better choice when searching for the best crappie rod and reel. For all-around crappie fishing, a 5 to 7 foot, medium, or slow action, ultralight or light graphite rod is usually the best choice. Why?
5 to 7 feet because it's a good balance between casting distance, weight/sensitivity, and portability.
Medium or slow action because crappie has very delicate mouths. A fast action rod would make it very easy to rip the hook out of the crappie's mouth unless used by a very experienced fisherman. The slow action allows more "shock-absorbing" to occur, albeit at the expense of sensitivity.
Ultralight or light power because crappie is on the smaller end of the fish size spectrum, and lighter lures and baits are used to catch them. You would want a heavier power rod when fishing for saltwater fish, for example.
Graphite because they are generally lighter and more sensitive, which lends itself well to the crappie's smaller size and more finicky strikes.
Reels
With baitcasting, spin casting, and spinning reels all potential reel choices, which one is best suited for crappie fishing? Baitcasting reels are great for heavy lures and lines. They are very popular for ocean fishing.
Do you know how your line looks all curly after casting with a spinning reel?
A huge advantage of baitcasting reels is that they don't twist the line. They are also easy to cast; it just takes the push of a button. The big disadvantage is that they are very prone to backlash (the bird's nest) and have a steeper learning curve to avoid this.
Spincasting reels are probably the easiest to use. All you have to do is push the button, flick the rod, and release the button. No worries about backlash here either. The downside is that the release of the line is not super smooth so casting distance is diminished. They also tend to gunk up and snag easier in my experience.
Spinning reels are widely accepted in crappie fishing, as well as most pan fishing, as the best choice of the reel. They release line super smooth, are great with small lures, and are very reliable. There's a small learning curve to figure out how to cast properly but it can be easily learned in a day.
When it comes to choosing the perfect spinning reel, there are a lot more variables that one can consider. Things like gear ratio, drag system, ball bearing count, body material, and line weight/capacity are all characteristics of any given spinning reel. I'll be honest though, it's not necessary to look at every characteristic to find a great spinning reel.
The most important thing to look at for crappie fishing specifically is overall size, which also means line weight/capacity. Because of 4-6 lb. the test is probably the most often used line weight when jigging and bobber fishing for crappie, a reel that is compatible is recommended for general crappie fishing use. When drag-lining or trolling with a heavier weight line, it would be more practical to use a larger reel, but not absolutely necessary. 
Casting baits from a bait caster may be difficult because there is a specific feel to it. With so many choices, buying a reel is a challenge. This is why we have listed some of the crappie reels. If you're in the market for just a reel, have a look at the crappie fishing reels below.
1) Sixgill Fishing Spinning Reel
This crappie reel is made from a graphite body and rotor that is corrosion resistant. It features a stainless steel main shaft with precision machines CNC aluminum spool. The reel has a multi-drag system with felt drag washers for a powerful experience. The spinning reel is available with an anti-reverse option. The Sixgill reel is shielded with ball bearings, 10 ball bearings are in sizes 1000, 2000, and 3000. In the size of 500, 6 ball bearings are included. This fishing spinning reel is lightweight and durable making it a good choice for anglers. The casting and retrieving are seamless and smooth.
2) Goture Spinning Fishing Reel
Another spinning fishing reel on the list is by Goture. This reel is produced from a rugged graphite frame and rotor that makes it durable and robust. It features a double-anodized aluminum spool that is light in weight. The Goture spinning fishing reel has multi-drag system with Japanese oiled felt drag washers. It provides an ultra-smooth and powerful experience. The reel has 6 ball bearings and a quick set anti-roller reverse bearing. This is great for the smooth operation of the reel. The Goture spinning reel is corrosion resistant. This makes it a great value for all levels of anglers.
3) Lew's MCS50 Mr. Crappie Slab Staker
The Lew's MCS500 Mr. Crappie Slab Staker is a good crappie reel when paired with Mr. Crappie's premium line. This reel is designed especially for handling light line and is offered in 3 different sizes. Graphite is used for manufacturing the body, spool, and rotor. It has a smooth operating front drag system. It features a 32-point multi-stop and anti-reverse with 2 bearing construction. The reel includes a thin and compact gearbox. The bail trip mechanism helps prevent tangles. It can be adjusted for right and left-hand retrieves. The Lew's MCS50 is valuable for light spin anglers.
4) Daiwa Underspin-XD Series
Next on this list is Daiwa Underspin XD series reel. This features a trigger control face reel with ultra-light action. It has a smooth ball bearing drive and rigid aluminum alloy construction with rugged metal gearing. Titanium Nitrided line pickup turns with a line for less wear and easier casting. The crappie reel has an oversized line aperture for optimal casting performance. It provides a great user experience, thanks to its smooth grad with easy rear adjustment. It can be converted to right or left hand retrieve without any trouble. This is an amazing spinning reel for both beginners and expert anglers. 
5) Quantum Fishing Optix Spin Fishing Reel
The Optix spinning reel by Quantum Fishing is a lightweight reel. The stainless steel bail wire is extremely strong and robust. It helps in preventing backlash, tangles, and knots. This reel features a 3 bearing system with a double anodized spool. Along with this, it has an adjustable front drag system that is useful in smooth control and movement. The graphite frame makes this reel strong. This provides a responsive and smooth reeling experience. It has a collapsible handle that provides a sturdy grip. The reel is great for both right and left-hand fishermen. The Quantum Fishing spinning reel provides the optimum balance of performance and value.
6) KastKing Assassin Carbon Baitcasting Reel
Another crappie reel is KastKing Assassin Carbon Baitcasting. This reel is the lightest reel that is bulletproof. It has a carbon constructed body, handles, and side plates. The reel has a hard-anodized aero-grade aluminum spool. This makes the reel resistant to corrosion and adds rigidity. The Assassin Carbon reel offers you impressive and smooth 4 disc carbon fiber drag that stops them dead. This spinning fishing reel has dynamic 6-pin centrifugal and magnetic brakes. It is useful for casting accurately even with the wind. This is a valuable fishing reel that allows you to cast all day without any fatigue.
7) Abu Garcia Revo Toro Beast Low Profile Reel
Abu Garcia Revo Toro Beast has 7 stainless steel HPCR bearings with 1 roller bearing. This makes the reel resistant to corrosion. The power stack Carbon Matrix drag system offers great drag pressures along with incomparable smoothness. With the help of active response, the drag mechanism enables easy drag adjustment. The Dura gear gives this reel increased fighting the power and extended gear life. It features an infini Max braking system that is helpful for unlimited adjustment. You can easily handle larger bait with this reel. The Abu Garcia reel has an aluminum spool that is good for providing high strength spool making it light in weight.
 8) Sougayilang Fishing Reel
The reel has an exquisite appearance that is inspired by the Transformers. The spinning reel by Sougayilang has 12+1 ball bearings with a CNC machine cut metal collapsible handle. It has fully adjustable cast control with a Sound S curve Oscillation system that is for good line winding. The spinning reel features an aluminum spool with high tensile gear that offers smooth operation. It can be adjusted for left and right-hand retrieves. This reel is lightweight and perfectly balanced for value and performance. The reel is portable that can easily fit in the fishing box. You can enjoy your fishing trip without fatigue.
9) B&M FR2V West Point Crappie Reel
The B&M FR2V is available pre-spooled with 45 feet of 6 Lb. hi-visibility Vicious Panfish line. It has smoother and accurate gear action. This reel includes an audible bait alarm that alerts you to the lightest strike. It features anti-reverse with tension drag screw and rugged ABS construction. This offers a smooth and durable drag. The reel has a large arbor to keep mono from kinking. This is a conventional reel foot for using with a reel seat. The B&M reel has a 1:1 ratio that can hold 20 yards of line. This reel will help you in making your fishing trip a memorable one.
10) Lew's Fishing Mr. Crappie Slab Shaker Reel

Check Price on Amazon
Lew's Mr. Crappie Slab Shaker reel is strong and lightweight, thanks to its graphite frame and spool. This reel features a wide range, multi-disc drag with a click function. The Slab Shaker has a large arbor design that decreases the line twist and improves line recovery. The sturdy die-cast has an aluminum frame and side plate. This delivers a rigid and strong base that keeps all parts in alignment. The dual braking system of this reel has an adjustable multi-setting brake. Along with this, it has 4-pin on and off the centrifugal brake. It is helpful for easy casting and reduced backlashing.  
Therefore, when buying the crappie reel you must keep in mind your budget. Make sure the reel you selected is in accordance with your requirements. 
 
So What is the Best Crappie Rod and Reel?


There are many great brands out there that make the top of the line rods and reels ranging well past $500. You can still get a pretty solid rod and reel combo that can give even the priciest rods and reels a run for their money. Although on the longer end, this Shakespeare Crappie Hunter Spinning Rod and Reel Combo is a great budget combo. 
Its 9-foot length does mean it's a little more cumbersome but it makes up for it in being able to cast further. It would also work well using it like a cane pole for vertical jigging. Its light rod power will help you avoid ripping the hook out of the crappie's delicate mouth. The rod is graphite, too, allowing you to better feel those faint crappie strikes. It comes with an aluminum reel, fully spooled with 4lb line. Did I mention it was cheap?
If you're looking for something a little smaller, the 5'6" Mitchell 310 Spinning Combo is another good buy. It also boasts a graphite rod and light rod power:
When you're looking for a great rod and reel for crappie fishing, you don't have to spend everything in your wallet. As long as you make sure the rod and reel have the right characteristics that are vital to crappie fishing, you'll do pretty well.
Medium to slow action, ultralight or light graphite spinning rods and reels should definitely be looked at when searching for the best crappie rod and reel. This combo has worked for me for years and it's sure to work for you too.