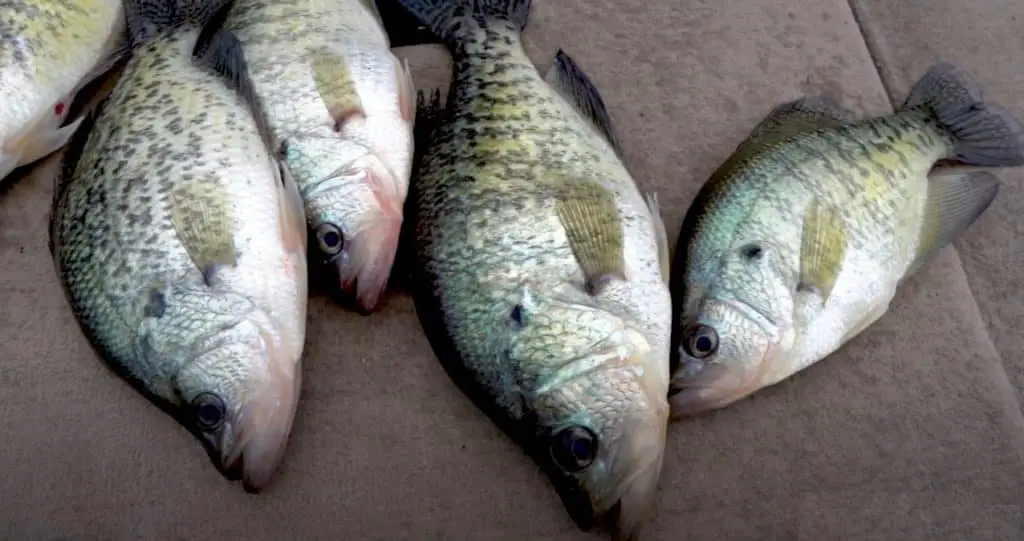 Although Texas is known for bass fishing, crappie is a close second. Thanks to the mostly year-round warm weather conditions combined with lakes that are at the conjunction of rivers, the crappie in Texas often grows quite large.
In Texas, crappie fishing is legal as long as you keep fish that are at least 10" long and limit it to 25 per day. Given the warm waters and abundant food sources for crappie, especially those found in Texas lakes, you may find yourself reaching the limit sooner than you think.
Crappie Fishing in Texas Tips
Types of Crappie
There are two basic types, white and black crappie. However, because they often intermingle, there is hybrid crappie that is a cross between the two. All three can be caught using lures, live bait, and jigs with the proper techniques.
The differences between the two main types are mostly in where they build their nests during breeding. White crappie tends to be near banks and the shoreline while black crappie prefers more secluded areas in heavy vegetation or wooded areas. This means you will need to choose your location carefully depending on the type of crappie you want to catch.
Best Lakes in Texas
Although crappie is found across Texas, the best lakes for crappie are concentrated in the northeast near the Dallas/Fort Worth area. It is here that the crappie tends to be the most abundant and grow to considerable size thanks to the climate conditions. The best lakes for crappie include the following;
Lake Fork, Navarro Lake, and Richland-Chambers Lake
Sam Rayburn Reservoir, Somerville Lake, and Toledo Bend Reservoir
Another lake near Dallas, Tawakoni Lake, is also an excellent lake for finding crappie. However, if you are looking for the biggest crappie, then set your sights on Lake Fork and Navarro Lake as that is where the state record-size crappie was caught.
Tips
Crappie is not the easiest fish to catch, but if you know where to look it can really help. What follows are a few tips that will help you fish the Texas lakes, rivers, and streams for crappie.
Breeding: The best crappie fishing takes place when they are breeding. This is when the crappie is most hungry, so you will want to be ready. Late April is usually the best time, although it may start earlier when the lake temperatures reach the high 50s.
Cover: Crappie tends to move towards cover, especially in the heat of the afternoon. You'll want to look for vegetation and trees near the shoreline. Submerged branches or logs offer excellent shelter for crappie which keeps them out of the sun and away from predators.
Tube Baits: Crappie is still quite active even in the fall thanks to the warm Texas climate. It is during this time that you will want to use tube baits and fresh worms. They seem to work the best during the fall as you can land plenty of crappie with them.
Texas offers many lakes, rivers, and streams with crappie. The only trick is knowing where they are at so you can use the right bait and techniques to land them.
Related: