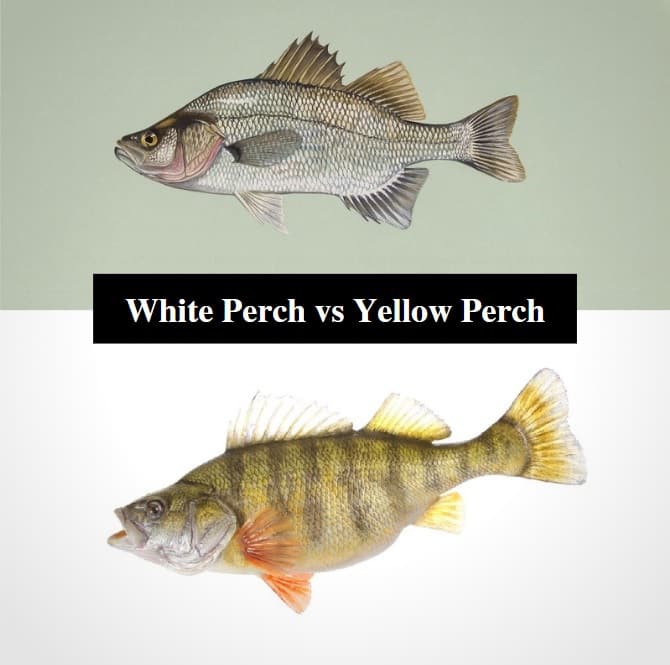 To compare white perch to yellow perch is like comparing apples to oranges quite literally. While apples and oranges are both fruit, the comparison really stops there and the same is true when comparing white and yellow perch. Both white and yellow perch are both fish, but that is where the comparison really ends.
White Perch Vs Yellow Perch
White Perch
For starters, white perch isn't really from the perch family at all but is rather a member of the bass family. It is sometimes confused with the silver bass. In addition, in some places white crappie are called white perch and crappie are members of the sunfish family so neither crappie nor white perch is actually perch.
True white perch is silver-white in color with darker coloring up near their dorsal fin. These fish favor brackish water, but can often be found in freshwater such as St. Lawrence River and the lower Great Lakes as well as long island sound.
White perch are a mild-tasting fish, with a pinkish flesh that turns white and flaky when cooked. They tend to eat the eggs of other fish species, as well as small minnows, such as mud minnows, grass shrimp, and blood worms.
In some areas, white perch are considered to be a nuisance fish because these fish are linked to the decline in white bass and walleye populations because they often eat the bait food that these fish feed on.
Yellow Perch
Yellow perch on the other hand are true members of the perch family and are often referred to as American perch, Raccoon perch, Lake perch, ring-tail perch, or striped perch along with other several other names. Yellow perch can live up to 9 to 10 years and grow between 4 and 10 inches in length.
They have a yellowish brass-colored body, with 5 olive green stripes or bars running from their back down their sides. They also have 2 dorsal fins.
Yellow bass is only found in North America and are native to this continent. They can be found in the Arctic and Atlantic Oceans, In the Great Lakes and St. Lawrence River and in the Mississippi River. They can also be found in Ohio and Illinois and in Canada as well.
Yellow perch are normally found in shallower water, but some can be found in depths up to more than 49 feet. Whereas white perch as been sited as helping to cause the decline in walleye populations yellow perch is crucial to maintaining walleye populations as well as largemouth bass populations.
Because yellow perch numbers tend to dwindle due to their being a food source of other fish as well as dinner on many fishermen's tables about 200,000 pounds of yellow perch are released back into the lakes annually by a small aquaculture industry. Fisherman in the Great Lakes catches roughly 40% of the 1 and 2-year-old perch and about 25% of the adult perch in Lake Michigan each year, testing to the fact that Yellow perch are a tasty fish.
As you can see both yellow perch and white perch are quite different fish, although both of these fish find their way onto the tables of fishermen each and every year.
Related: