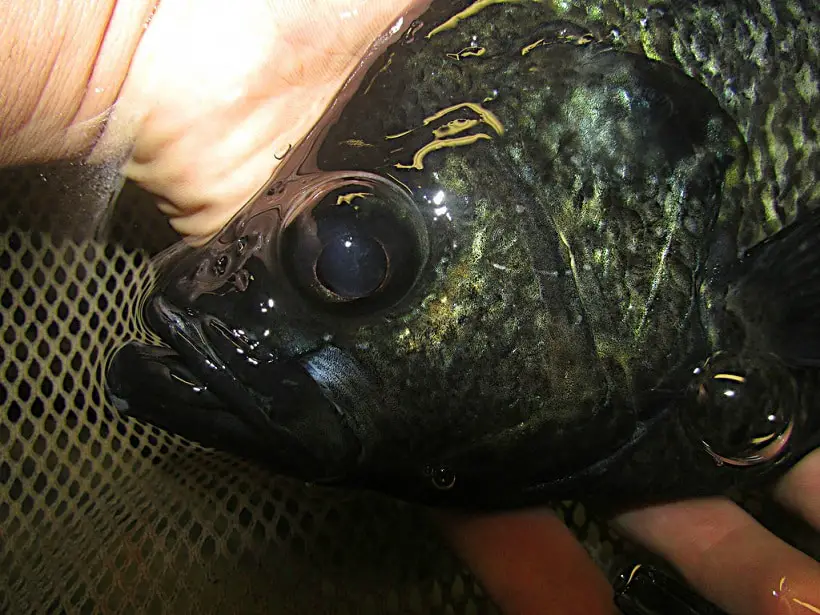 Crappie is a native freshwater fish found throughout North America. They live naturally in ponds, and streams or lakes with very clear waters. They are mostly kept in ponds outdoor, but it is also possible that it thrives in aquariums.
Size Of Crappie To Keep
To keep crappie, take a large aquarium and build it with a substrate, artificial plants, driftwood, and a filter. If you want your Crappie to do well, feed it every 12 hours and don't forget to keep the water clean and check for the water quality regularly.
Read: Crappie Aquaponics – Brilliant Aquaculture System Designed to Rear Crappies
The growth rate of the crappie fish
When we talk about the growth rate of the crappie fish, we generally know that it is influenced by the availability of food/forage in relation to the abundance of crappy fish in the region.
The growth rate of crappie is affected by the size, structure, and age of a crappie population as well as the physical size of crappie in your aquarium or that can be caught by anglers if in the wild. In an ideal population, fishes must first reach a minimum size for harvest (a size determined by the pond owner or authorities) and within a reasonable time too
Generally, a good supply of food is required to help the crappie live fine and grow at a steady rate so the fish can lead a healthy life and reach the set target or goal in a quick time.
What is the size of crappie to keep?
You may be wondering what size of crappie is perfect for you to keep when you go fishing for crappie. Catching crappie may not be easy, so it may be difficult letting them go, so you want to know what size is probably best to keep or not to.
You are not alone, because there are thousands of people like you too.
Some people even wonder how to clean small crappie, they wonder if to just fillet or scale and cut their fins and heads. These are all cause of concerns and they're normal.
If you fish with the wrong method, you just may not get large crappie, in fact, a lot of people fish with the right method, but still catch only small crappies, so wondering what size to keep is not out of place.
It may depend on the size of the river or your location.
*Do check your state regulation for the crappie size limit – each state might be different
Different places have different population abundance of crappies. If you are in a place where crappies are not hunted so much, or fishing for crappies is moderate.
You may be very lucky to catch trophy-sized crappie, if it is not illegal in your state, remember to show it off on social media. If it is illegal, then you may do as required by your state.
However, if you are in areas where crappies are extra loved and fished very much, you may not have enough large crappies around. This means you may settle for even smaller crappies as you fish. A more common size to keep is more than 7″, which is not bad.
So the size of crappie to keep or let go should depend on the size of the river or lake you are fishing from and your location as well.